We're just a week away now from Grand Prix Vegas and the Modern Masters 2015 onslaught that comes with it. I know I'm looking forward to it, and I'm not alone. We have a house rented in the city, and I'm looking forward to meeting both old friends and new ones while enjoying a great week in Vegas.
Of course, there's another reason we're there, one that isn't a party. That would be Modern Masters 2015, and it's looking to be a vitally important weekend financially. Much has been said already about the expected value of the set: complaints about it not being high enough or about it being too unevenly distributed. All may have some merit, but they're also irrelevant at this point. As someone approaching this from a MTG finance angle, your goal should not be to discuss what should have been, but rather what is. And what "is," means a set with some value at the top end and a pretty drastic dropoff after that.
Where Will Prices Go?
The million (or something) dollar question. I've been aksed this more times than I can count over the past month, and I've given a pretty consistent answer to it: I don't know.
I realize as an "expert" in this field that's not the answer people want to hear, but it's being honest. When there's no real precedent for this set given the much-smaller print run of the original Modern Masters, it would be incredibly disingenuous of me to tell you a month ago what Tarmogoyf will cost in six months. I don't have any information to form an educated opinion, and I would rather say nothing at all than provide misinformation based on nothing but me wanting to hear myself talk about it.
My stance from the start was that we needed some empirical data before we could draw any conclusions, and that meant waiting, no matter how unfun that was.
Well, we're finally starting to see some data, and so I think it's time to begin analyzing it.
The Numbers
There's this misconception that the first Modern Masters didn't lower prices, or actually raised them, because, "Tarmogoyf, Cryptic Command, and Vendilion Clique!"
While didn't-lower-prices complaint did hold true for those few cards, it's far from true across the board.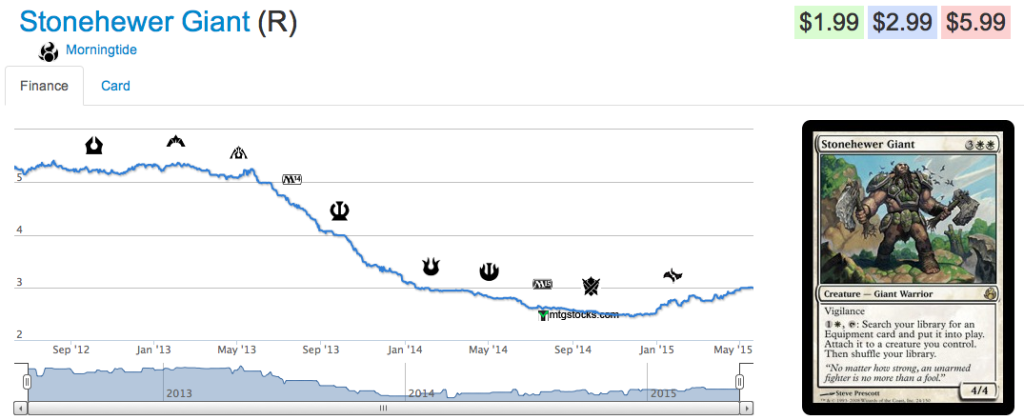 Stonehewer Giant is just now starting to recover from Modern Masters, and it's not the only card in this boat. So, before I go any further, let's be clear about that. The vast majority of cards in Modern Masters 2015 are going to get rekt (I use words like that to sound cool. Bad idea? Okay, no more).
That's not to say every casual or EDH card in the new set is going to tank and never recover. Doubling Season, for instance, has recovered very well from its printing in Modern Masters. But Modern Masters 2015 is going to depress them for a long time to come. That means something like Tezzeret the Seeker or—perhaps the best example—Creakwood Liege is going to tank and take a long time to recover.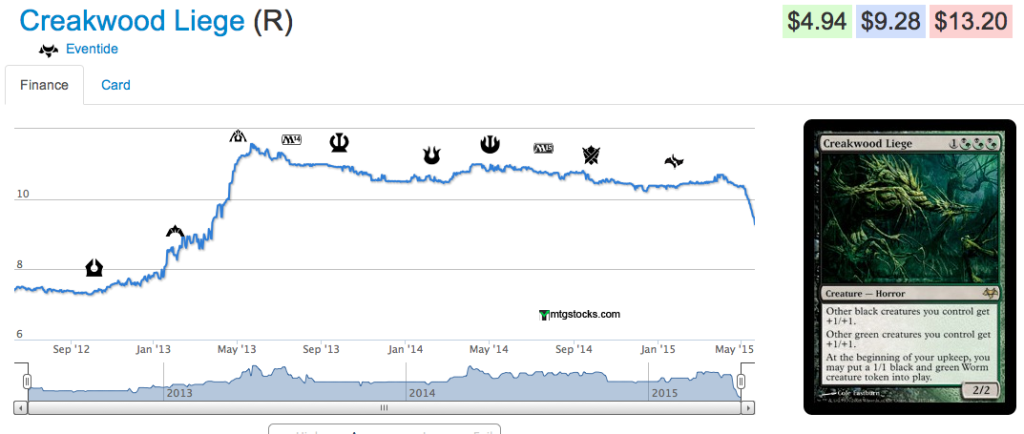 I expect Liege to tank down to  below $5 and sit there for a few years to come. This is all something we can determine just from comparing to the first set, and with the larger print run of Modern Masters 2015, this effect is going to be even more pronounced.
So that handles what will happen to the low-end, and that's information we have access to and can easily extrapolate from. But it's the high-end that everyone wants to know about, and it's the high-end we're just now beginning to see some data for.
The 'Goyf Level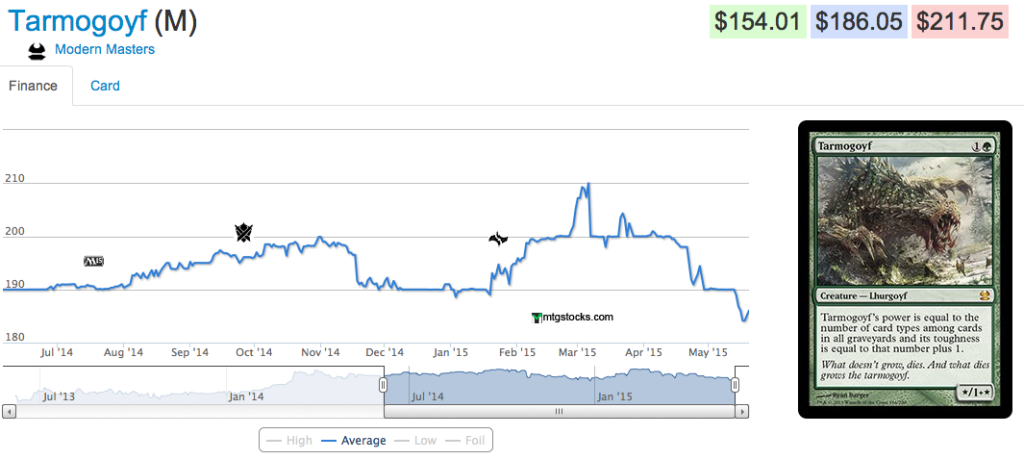 Take a look at that Tarmogoyf chart. We're seeing it predictably slide down. Compare to this chart from the Future Sight Tarmogoyf when the original Modern Masters came out on June 7, 2013.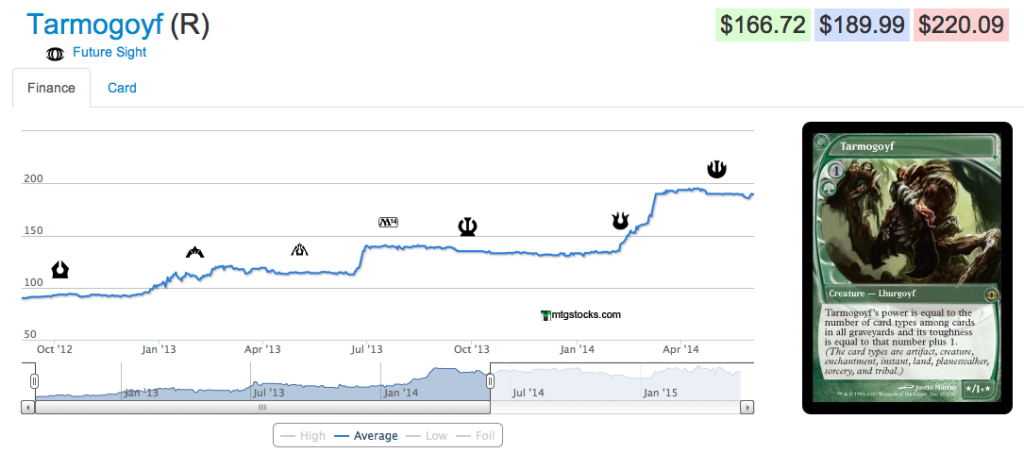 You can see there that the original Tarmogoyf not only didn't drop, it actually rose in between the announcement of the set and its release. Viewed in that lens—a price increase despite a reprint incoming—it's really not surprising that 'Goyf spiked after the first GP Vegas.
Magic was growing very quickly around that time, and that growth makes sense. While Magic isn't shrinking in 2015, it's not experiencing the growth that it was then, either. Throw in a larger print run and the fact we're seeing a price drop this time around, it makes a lot more sense for Tarmogoyf to fall lower in the coming months.
How low? I think that's still to be determined, and what we see the price of the newest printing do in the next month is going to determine it. While I do expect a drop, I'm not quite sure I expect $100 'Goyfs, and I have a few reasons why.
The first is the recent news that there won't be a second print run of Modern Masters 2015. Wizards got a lot of heat over the print run of the first Modern Masters not being large enough since it didn't drop prices as much as people would have hoped, but people have to remember WOTC's goals here.
The goal isn't necessarily to make Tarmogoyf a $20 card, or even a $50 card—it's to make it more available. While it's easy to conflate availability with price, it's not the same. Yes, there may be enough demand that Tarmogoyf stays around $200, but there's also the chance that a player might pull one from a booster pack. The median price on TCGPlayer may not move much, but that possibility counts for quite a bit.
People are going to always spend money on some sort of Magic product, and over the next few months that money will be on Modern Masters 2015. The whole, "You know what goes good with a Tarmogoyf? Three more!" makes sense, of course, but it's always used to explain why the prices are still unreasonable. But looking at it in the context of completing a playset, someone spending their typical monthly "budget" of Magic money won't be spending much more than they usually would, but when they open a Tarmogoyf the cost of completing a playset is no longer $800, it's now $600. That chance of opening a 'Goyf is something that wasn't available to players before, even if the prices are the same.
That's the difference between "availability" and price, and the goal of Modern Masters 2015 is to make Modern more available, not necessarily cheaper, even though there is obviously plenty of overlap.
So when we talk about the lack of a second print run, it means this opportunity is going to be available for a shorter window of time for most players, and there won't be enough time for supply to really flood the market. That's a recipe for some short-term price dips but long-term stagnation or even growth, especially combined with this second factor.
That factor is the apparent lack of movement from some of the cards. Sure, we're seeing some drops from the original printings as we expected, but the versions in Modern Masters 2015 aren't starting anywhere near as low as we may have guessed. Fulminator Mage, for instance, has always felt odd as a $30 card, and it made a lot of sense when the new version opened at $20 in preorders.
But it didn't stay there. Those cheap copies went fast, and the next wave of preorders came at $30. It's settled around $25, lower than the original printing but not anywhere near as low as we might have expected. This is a trend spotted in several places in the new set. Of course, this price will likely continue to dip once copies actually hit the market, but given the single print run, this dip may not be as much as expected.
Conclusions
I was reticent to offer opinions before we had any data, but now that we do, I'm starting to form some suspicions about where we're headed.
To summarize:
Low-end cards, commons/uncommons, and casual-demand cards like Creakwood Liege are going to tank, and they're going to stay tanked for at least 12 to 18 months.
High-end rares like Noble Hierarch and Cryptic Command will end up being down 25 to 40 percent. This means $30 to $35 Noble Hierarchs and $35 to $40 Cryptic Commands. This is, of course, still just educated guesswork on my part, but it's a start to some theories that will be refined in the coming weeks.
The mythics will drop, yes, but not drastically. The most frequently played Modern ones like Tarmogoyf and Clique will hold up best, but as a whole, we're looking at just 15- to 25-percent drops here. This will make these cards more affordable, but I really wouldn't be surprised to look back at this set when Modern Masters 2017 comes out and see the prices right back where they started.
Thanks for reading,
Corbin Hosler
@Chosler88 on Twitter