Polling is closed and results are in. I am delighted to report that despite the fact that my article last week was untraditional and lacked money-making insights, the majority of readers commented their desire to read part two! This is an encouraging result for me because I truly have passion for this field of exploration. Combining MTG finance, real life finance ("RL Finance"), and economic theory is a niche area that really invigorates me. Glad I'm not alone.
So without further ado, I'll dive into the second installment of advanced economics and MTG finance.
Where We Left Off
My recap of last week's column will be brief. If you wish to explore the full background I encourage you to read the piece in full before proceeding to this one.
In last week's article I introduced the field of Game Theory and explained why I felt Magic card buyouts were an example of a "game". Then using certain assumptions I concluded that the outcome of the Magic buyout game is comparable to the typical outcome of the Prisoner's Dilemma. Even though there is a strictly better outcome for the entire population, a non-ideal conclusion is reached due to everyone's (understandably) selfish motivation to maximize profits.
Despite any efforts we as a community take to combat this phenomenon, I call almost guarantee that the suboptimal outcome will always be reached. Buyouts will continue to occur rapidly leading to a temporary, artificially-high price. This will result in some players overpaying for their copies and other players unable/unwilling to purchase copies at the new, elevated price. A few speculators who bought cheap copies may be able to out some for profit, but the net value across everyone involved isn't optimal. It would be more favorable if everyone cooperated – purchasing only the copies they needed and encouraging others to do the same – mitigating price spikes and enabling slow, healthy price appreciation.
I used the term "healthy" to describe price appreciation that doesn't reflect buyouts because gradual, natural price growth is often more sustainable. Many casual cards not dwelt on in Twitter chatter fit this mold. Corbin recently wrote a terrific piece describing why he likes casual play and its effect on finance. This would be one of my favorite aspects; namely the gradual increase in prices driven by natural supply and demand shifts.   Avacyn, Angel of Hope comes to mind as a perfect example – the price chart shows a monotonic increase in price over years of time.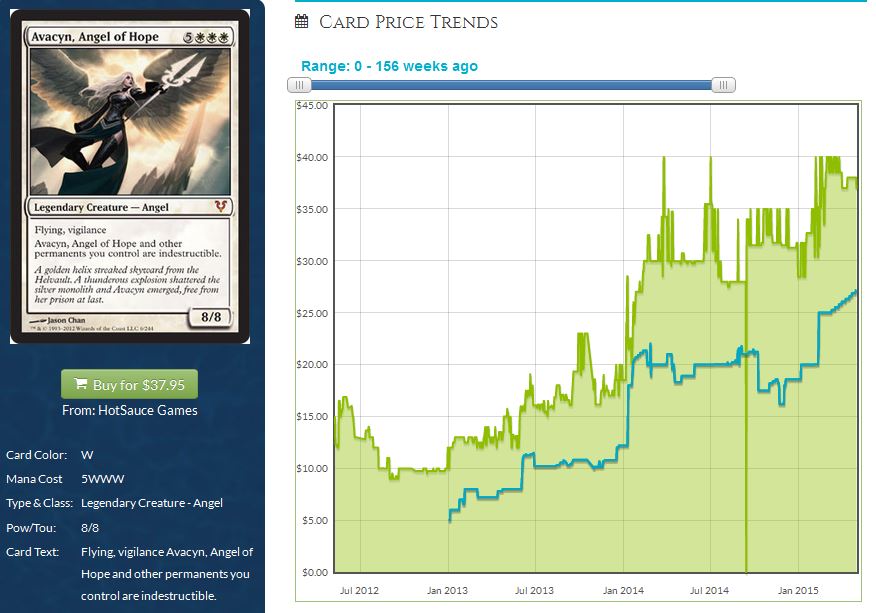 On the other hand we have Ragnar, a different kind of casual card that was suddenly bought out on the internet on Tiny Leaders speculation. The result: a $6 card is now a $30 card and players interested in picking this guy up for Tiny Leaders are now stuck between a rock and a hard place. Either pay way too much for a card with very narrow utility or sit on the sidelines and wait.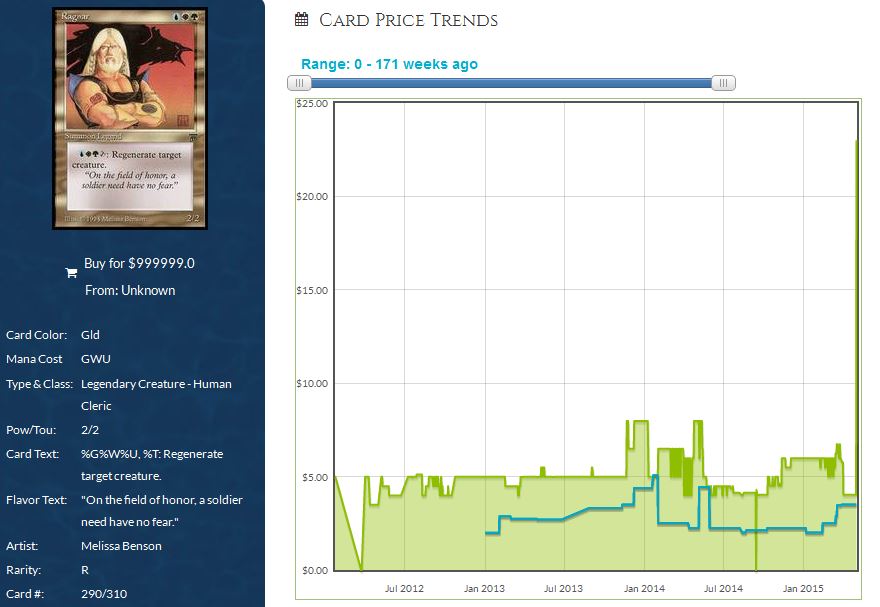 I don't think I need to provide any further explanation as to why Avacyn's price increase will be sustainable and continue further (until she's reprinted). The jury is still out on Ragnar, however. His price certainly won't tank – the card is too old and it's on the Reserved List. But I'm not quite sure players are going to want to pay $30 for him, either. There are certainly other Bant options for Tiny Leaders. I suspect his price drops back down to the $20 range in the next couple weeks, as copies slowly trickle back into the market.
If you want a recommendation here, go buy Jenara, Asura of War. She's a far better Bant general for Tiny Leaders and she hasn't been forcibly bought out. Instead, the Bant angel continues to steadily appreciate in price. Barring reprint, she will continue to become more and more expensive as players and angel collectors alike seek out their copy. No one is buying this card out, so you can trust that the higher price is sustainable.
Application 2: Where You Buy
Let's assume for a moment that you want to play the buyout game. You've decided you like the Ragnar spec because there are just so few copies in existence and the artwork is too cool to ignore. You notice the buyout is happening and you decide to act.
What do you do next? Likely you navigate to a well-known website like TCG Player or eBay and buy some copies…you and everyone else. Motivations for using these large sites vary. Some like the large selection and array of sellers. Others simply like TCG Player because they want their purchases to move the market (via mtgstocks.com).
But do you know what happens when many people flock to the same location to purchase their copies of a card? In Prisoner's Dilemma style, people steal cards out of each other's cart and cause that artificial price spike. Latecomers could potentially blindly overpay for their copies because of their assumptions that TCG Player (or eBay) is the best place to buy cards. Star City Games, Channel Fireball, and other major retailers also sell out quickly during these buyouts, but at least they go "out of stock" so you don't end up overpaying.
This is where an advanced economic analysis could be beneficial. Because everyone is prone to "defect" and purchase many copies of a card during a buy out, the price artificially jumps. But do you ever notice that TCG Player is often where a card's price jumps first? It's naturally one of the first places most people go.
It's comparable to a mad dash through a doorway into a room – everyone pushes and shoves their way through, causing significant discomfort with a few unhappy stragglers in the back. What would happen if some people would stop shoving in the largest, most heavily used doorway and instead walked around to the side doors? Those side doors would have far less traffic, making the experience much more enjoyable and less competitive.
Moving back to MTG, this would be comparable to purchasing a hot card from a less-popular website. How many times have you visited ABU Games upon discovery of a new buyout taking place (like during a Pro Tour)? How many people have shopped from Ideal808.com before? Who first visits Cardshark.com, Amazon.com or even Coolstuffinc.com before trying eBay and TCG Player?
I find I have the highest success buying from sites that do NOT use TCG Player as an alternate way to sell cards. Channel Fireball usually sells out with the rest of them because they also sell on eBay. The same is true for Troll and Toad. But ABU Games doesn't list many cards on eBay or TCG Player, so they often have cards in stock hours or even days after a buyout. Because everyone is so fixated on the most popular sites, these smaller players have copies that remain after a buyout. By walking into the metaphorical room through a less popular side door, you can still get inside the room without any jostling. This is truly the optimal outcome.
And this is the key application of the Prisoner's Dilemma to MTG Finance. It was my primary motivation for writing on this subject in the first place. By "cooperating" and visiting diverse sites when purchasing cards we can mitigate artificial hype and price spikes. What's more, we're more likely to grab the copies we want near the "old" price!
Knowledge is Power
You may be left wondering if this is truly practical advice. You may be thinking "this sounds logical in theory, but it would never work in practice."
I have plenty of examples that prove that application of this knowledge can lead to profits. I'll share three.
Example 1) A few weeks ago there was a mad dash on Foil Teferi's Response. The card was bought out all over the internet, and the only copies still available for sale on TCG Player and eBay were in the $20 range. I sifted through various sites hoping to find copies at the "old" price. I was in luck.

ABU Games still had a few copies for sale, and although they were all played the price was too good to pass up. I pulled the trigger.
Was I able to out these for profit? Indeed. I sold one copy to a friend on Twitter and two copies on eBay. But do you want to know the best out for the remaining copies? I buy listed them right back to ABU Games again…for twice what I paid them!

Example 2) I suppose I should have seen Ragnar's buyout coming, because it mirrors the earlier buyout of Tetsuo Umezawa almost perfectly.
The Legends rare suddenly jumped from $20 to $40 and then $50, likely due to more Tiny Leaders speculation. Rather than rush to TCG Player and buy copies there, I first went to one of my favorite go-to sites: Card Shark. I was in luck.

I grabbed these two copies the day after the card already spiked and proceeded to sell them on eBay as soon as they arrived. Shopping at less popular sites led to easy profit.
Example 3) The jury is still out on my most recent example, but I am confident this will pay out. Every day I visit mtgstocks.com to view the most active price movers in Magic. And recently the site added a new, foil Interests page. Last week's foil Interests page looked like this:

Noticing the sudden jump in foil Pride of the Clouds and foil Fumiko the Lowblood, I did my usual, thorough search. Once again I struck gold.

It seems yet again ABU Games was forgotten in these buyouts, allowing me to casually visit the site, add copies to my cart, and make the purchase. I am confident I will be able to sell these for profit in the near future – if anything, ABU Games may up their buy price enough so that I can sell these back to them again.
Wrapping It Up
Game Theory is a powerful field. It predicts so many phenomena in real life, such as nuclear arms races and advertising. It predicts defection when cooperation would be the optimal strategy. Magic: the Gathering finance is not immune to the theory. Buy outs in particular are exercises of the Prisoner's Dilemma, whereby people rush to buy copies from popular sites, causing unnecessary price jumps. Those too late to the game either overpay for their copies or sit on the sideline frustrated with their inaction.
But there is one way we can "cooperate" and avoid the hassle of the buyout. By searching less popular sites, we are afforded extra time to obtain our copies without the mad dash for profits. Let everyone else rush through the main doorway, causing jams and headaches. We know there are plenty of side doors with no line, allowing us to pull up a chair and watch the circus that ensues. And even if the price jump doesn't stick, at least you've paid the "old" price rather than the rapidly rising buyout price. And who knows? Maybe a buyout will happen again, giving you the chance to move your copies. After all, selling into the hype is definitely more fun and more profitable than buying into it.
…
Sig's Quick Hits
It's only a matter of time before Lady Evangela gets the Ragnar / Tetsuo treatment. She's another old-school Reserved List general option for Tiny Leaders. But for now, she's not attracting as much attention. SCG still has a few in stock: NM at $12.99 and SP at $11.99. Watch this one closely for potential movement.
Engineered Explosives has really been hot lately. There's now only 1 copy in stock across the two printings: copies from Fifth Dawn are $10.49 and Modern Masters are $9.69. These will both increase soon, I suspect.
Here's a penny stock worth keeping an eye on: Retract, from Darksteel. The card is getting attention in some Modern brews. And although I haven't seen the card in action yet, I did note that Star City Games is out of stock. NM copies are listed at $0.49 and foils at $2.99, but I suspect both numbers to rise soon.