(Credit for the cover photo alterations goes to Sean, @SeanOhhhh on Twitter.)
So, uhhhh… how about that Jace, eh?  Actually, I really don't care about the card. I've never even owned an Origins Jace, and I certainly don't plan on buying in at $80. You'll hear about the mono-blue mind master in much more detail from several of my colleagues this week, so let's move onto something much more interesting.
Something Much More Interesting
You know what? Let's check out "today's most interesting cards" from this past Monday, because that sounds like a fun day that I definitely picked at random.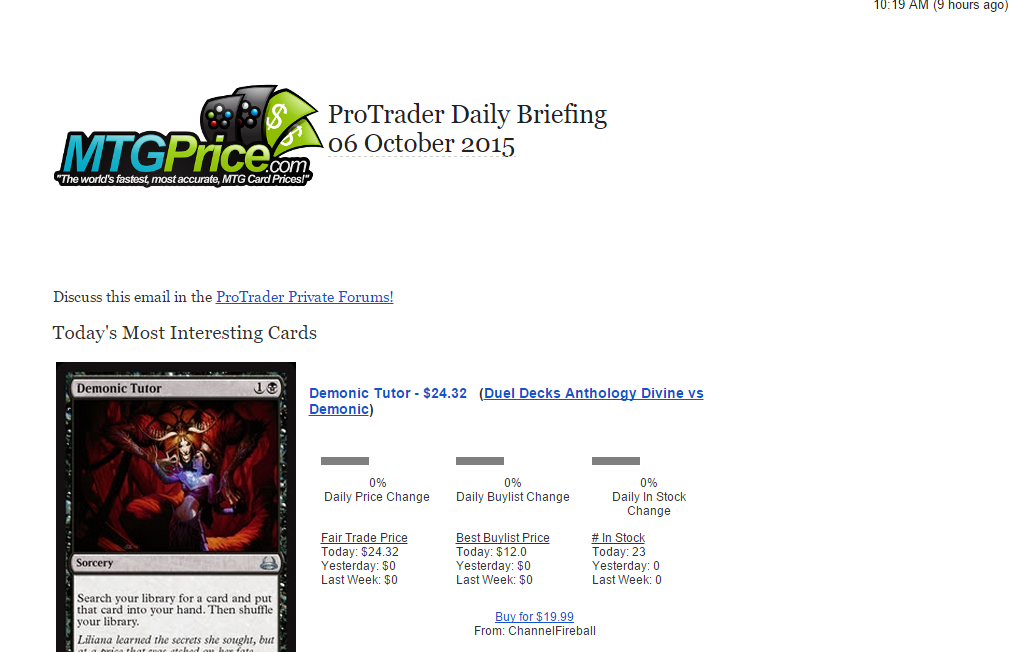 Oh, darn. According to my ProTrader email, nothing interesting happened that day… OH, WAIT.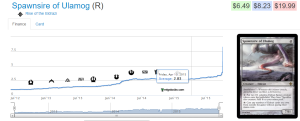 So that finally happened, although I don't think it's a coincidence that last week's article was literally all about Spawnsire of Ulamog and why I thought it was a good spec target at $3. When I wrote that article, the card had crept up to $4, and I even advocated *not* buying in anymore if you were trying to make a profit. Parroting last week, buying in at $4 means that you're hoping for the card to hit $8 or $9 before you can start to see worthwhile and noticeable margins. As a personal rule, I don't buy unless I'm confident in my ability to at least double up.
As you can see by the pictures and timing of the whole thing, my article looks like it was the final stroke required to convince some number of people to buy the last 30 or so copies that were available on TCGplayer, and the half dozen left on eBay. I seriously doubt that these people are going to make any money, if it's any consolation to you.
My hope for the rest of this article is to show two things. First, I want to be as transparent as possible about all of my suggestions to speculate on Spawnsire, be clear exactly where I made money, when and how I bought and sold each of my copies, the areas where I went wrong, and how I would change my approach in the future. Second, I want to explain the concept of the greater fool theory, a topic that Jason Alt first intertwined with MTG finance a couple of years ago back when Theros first came onto the scene. It's been a little while since then, so I'll provide a refresher.
Alright, let's take a trip down the magical mouse-wheel and scroll back to about five weeks ago.
August 30 was the first time I mentioned Spawnsire on Twitter. I subsequently grabbed a dozen or so copies on PucaTrade, because I very rarely buy into a spec target with cash. Most of my "speccing" comes from buying large collections or lots of singles at buylist or below, and setting aside the cards that I'm anticipating will go up for later. While I don't always get the quantity or card that I'm specifically looking for by using this method, I'm almost guaranteed to not lose money in the long run if the end result is different than my vision.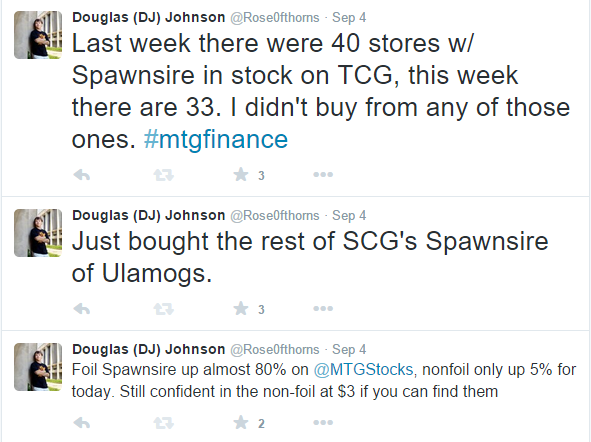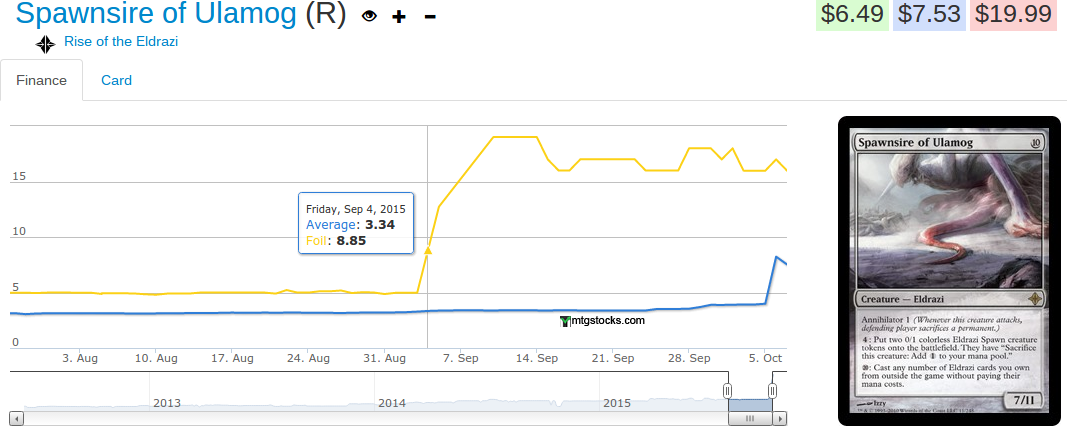 Fast forward to September 4. I noticed on my daily check of the MTG Stocks interests page that the foil version of Spawnsire had doubled, seemingly out of nowhere. I didn't own any foils, but I did see that the non-foil was still hanging around the bottom of the interests page. At this point, I was very confident that the card was primed and ready to spike within a couple of days, following the trend of the foil.
I bought the copies that you read about in my article last week from Star City Games, because I saw a perfect storm of reasons to pick them up there: SCG was the cheapest place to buy, I could get 36 copies at once, and I was guaranteed that they would ship. I continued to check the stock on TCGplayer for several days, and it continued to teeter anywhere from 33 to 50 sellers at any given time. There were stores listing new copies, and then they would get eaten up, although I'm not sure if that was the work of non-competitive players looking for their copies, or speculators following the feed of information that I was providing.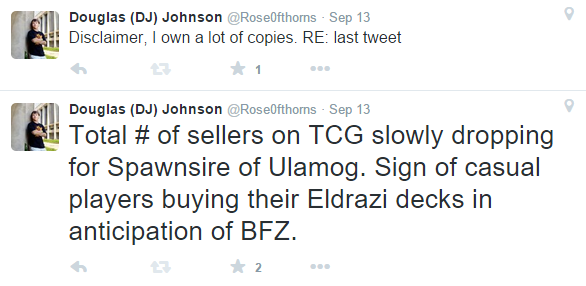 And here we are about a week after I bought my copies from SCG. Unfortunately for me, they simply restocked another 40 SP copies a day or two after I cleaned them out, so it meant that there were still a lot of casual players who would need to pick up their Spawnsires at $3 to $4 before I saw any sort of profit. I didn't want to buy anymore than I already had to force the market to move. Getting rid of 50 copies of a casual card that was likely only a one- or maybe two-of of in a deck was hard enough, so I held back.
In hindsight, I should have also tweeted here that SCG still had 40 copies in stock.  I focused too much on the TCGplayer and eBay stock affecting the price, and should have tweeted back on the 13th that SCG still had a bunch of copies, and that they were probably the place to buy them if you needed Spawnsires to play with.
That was my last tweet before the last of the supply on TCGplayer and eBay disappeared on the evening of October 5. I really wish I had written my last week's article three weeks ago so that it didn't coincide with the actual release date of Battle for Zendikar. I would be interested to see if Spawnsire's available supply decreased at a similar or identical rate without my article, simply because of the set release allowing casual players to get their hands on Battle for Zendikar and start crafting their Eldrazi decks.
Similarly, I wonder if my article would have been enough of a match in the powder keg to spark a buyout three weeks ago, without the set being released in the same weekend. As things played out, though, I think it was the combination of both factors that made the buyout happen. Now, let's take a look at what I did that night as a result of the buyout, regardless of who bought the copies that started it.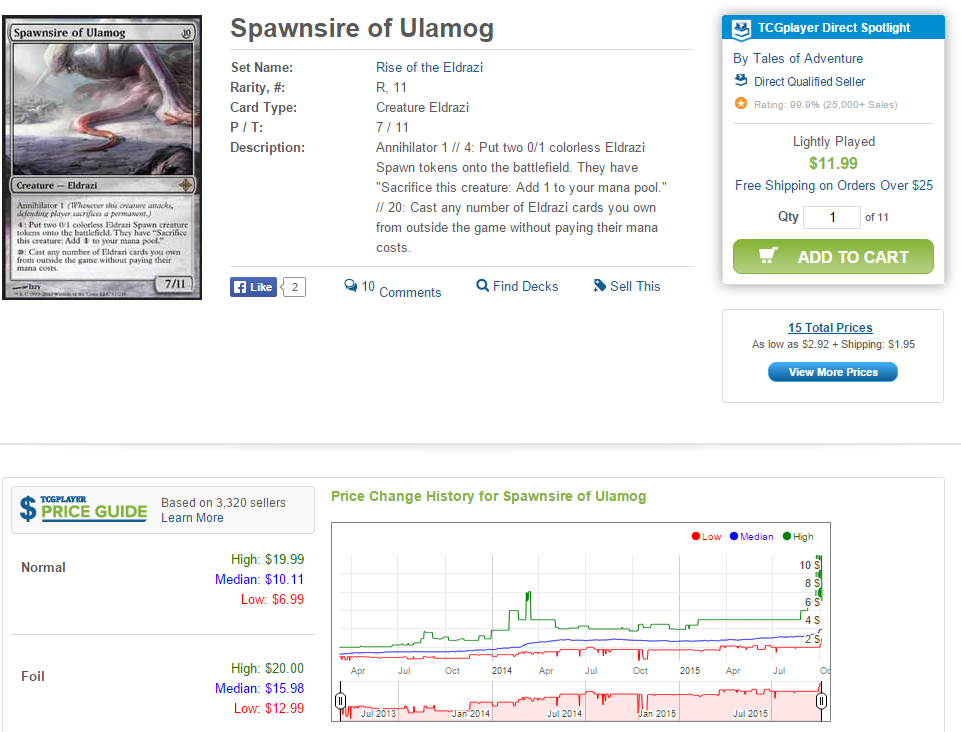 This screenshot was taken on the night of October 5. As you can see by checking your own TCGplayer mid prices, Spawnsire has settled since then at around $6 to $7, right where I was hoping for. Immediately after I noticed this jump, I went to TCGplayer and listed my own copies. I put up 37 NM copies for $6.99 (if you'e been keeping track, I only got 15 or so NM copies from PucaTrade. I graded all of the 35 SP copies that I got from SCG, and I personally felt that almost half of them were NM. SCG's grading system is extremely rigid). I also put my 17 SP copies up for $6.49 and crossed my fingers.
While I waited to get lucky and hopefully sell some Spawnsires into the hype, I went to SCG to see if they had been bought out as well. Did the instigators of the buyout really grab all 40 of SCG's SP copies? Well, not exactly.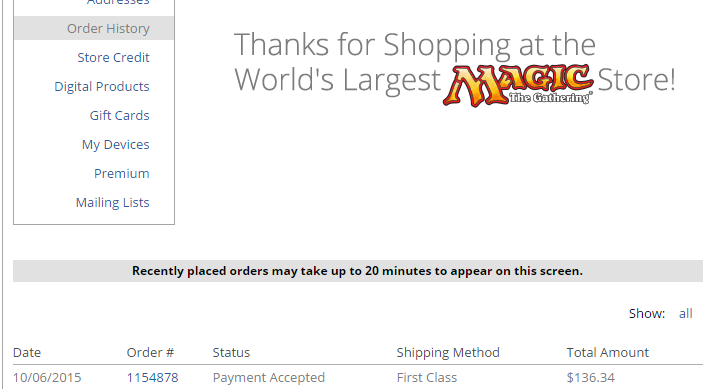 While the cheapest copies of Spawnsire on TCGplayer were my own at $6 to $7 and eBay was completely empty, SCG still had 40 SP copies on their website sitting at $3.35 each. Huh. While this is definitely a risky move and I wasn't sure if I would be able to sell all of these, I felt that I would be able to slowly move them on TCGplayer or through trades at $6 to $7 a piece, eventually making a strong profit. It would take a while and tie up my money, but I didn't really put a lot of time into thinking about it. I was concerned that someone else would snap them up before I did, so I hastily jammed them all into my card and swiftly made it through checkout.
Ugh. Now I had to move almost 100 of these things. I went to bed that night thinking of strategies of how I would move more than 90 freaking Spawnsire of Ulamogs. Maybe if I got lucky, one buylist would hit $4.50 or $5 and I could just sell them all en masse for a small but safe profit. Facebook would probably be a strong outlet, as there are a ton of non-competitive players in all of the groups that I'm in. I could jam a few in my display case, because I mostly market myself to EDH and newer players out of the store. I'm sure some of them will want to build Eldrazi decks, and slam Barrage Tyrants and Desolation Twins into play with Spawnsire. Hmmm…
Greater Fools
Alright, now we're almost caught up to present day. I got out of my sports psychology class Tuesday afternoon to check my email, and I was happy to see an email from TCGplayer. I had a Spawnsire sale! The first of many, I'm sure. Although it would be a slow process, I would eventu—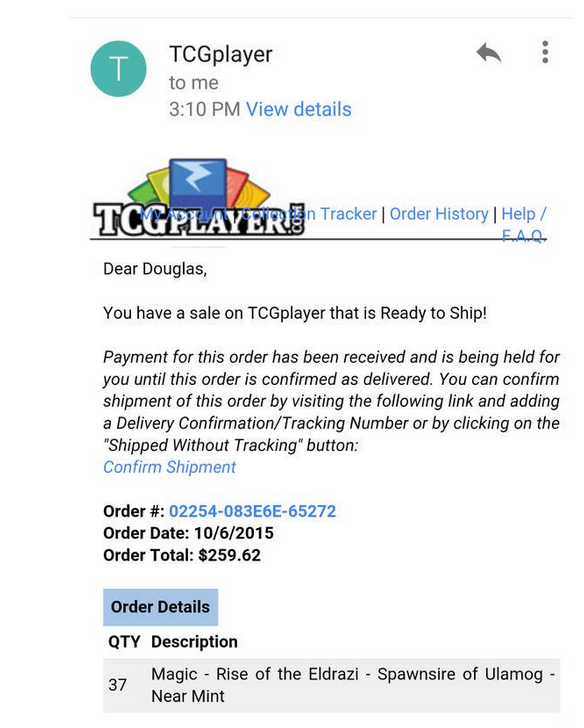 Uhhhhhhhh…
Well, alright then. Either this person knows something that I don't, or he has a really weird thing for tentacles. One person bought out all 37 NM copies for $6.99 each, so I suppose that solves one of my problems. Obviously no player buys 37 copies of a single spell that's not a Shadowborn Apostle or Relentless Rat, so this is a purchaser looking to make money. I'm assuming that this person doesn't read my articles, because I suggested the exact opposite of what this party did. If you buy in at $7, then you're looking for Spawnsire to hit $13 or $14 before you sell, and you plan to sell 37 of them at that price?
According to the greater fool theory, irrational buyers will set the price of a commodity when that thing's price is not driven by its own intrinsic value. In this party's mind, they're not the fool. They're going to sell to some other guy who's a greater fool.
"I can't wait to get these 37 Spawnsires, so I can sell them to some guy for $10 each. I'll make like a hundred dollars because I'll get approximately $3 profit off each one." –Spawnsire Sam
The problem here is that you're assuming that person exists, and that the market will still be as volatile as it was when you bought my copies. I'm shipping those Spawnsires out on Wednesday afternoon, so the buyer probably won't get them in the mail until Monday. Do you still think Spawnsire is going to be $10 on Monday? Hell, it dropped below $10 already, and it's probably still going to be $7 when this article goes live on Thursday.
When I bought Spawnsires three weeks ago, I had a choice when I saw the spike happen. I could either sell them immediately by racing to the bottom of TCGplayer (an option that I only have because I had the luxury of having copies in hand from three weeks ago), or I could take a greater risk and try to predict that the price would stay at $10, $11, or predict that it would go to something like $15. The choice I made is pretty obvious: I took the safer route. Move the cards, lock in the profit.
The party buying my Spawnsires had a different set of choices. They could either buy my $7 copies, hoping to sell them for $10 or $15 as soon as they get them in the mail (what they did), or they could stay out of the game entirely. The bus already left the stop, and this guy is trying to take the elevator to the fourth floor of his apartment building and parkour from the top of a roof to land on top of the bus, all so that he can hand out free Spawnsires to all of the little boys and girls. I didn't feel confident that my copies of Spawnsire would be able to sell at anything above $7. More specifically, I didn't expect any fools to come along and believe that there would be any greater fools to buy at $15.
Unfortunately, I'm still not out of the woods yet. I have to sell the 40 copies I'm getting from SCG in the next week, and that's going to take, uhhh… a while. Only one buylist has hit $4 as of right now, and I doubt there will be many that go above that. In hindsight, buying these additional 40 wasn't the best move, but at least I won't lose money on the purchase.
End Step
Are you tired of Spawnsire yet? I hope so. It's been a while since I've dissected a spec to such a degree, but it was a lot of fun writing both of these articles. I hope everyone learned at least a little something, even if it was, "Don't buy 37 copies of Spawnsire of Ulamog at $7."
Let me know what you thought of my article through Facebook, Twitter, or in the comments section below!