It's that time of year again. The time to look at the past to see where we might be headed into the future. I'm going to list all the articles I've written over the past year below that have generated a good discussion, so that we can review them one more time to know where we might be headed in the future. My hope by doing this is to see what predictions have gone wrong for me, which have gone better, and which we can learn from to see how we can approach Magic finance.
This article takes the top spot for most comments of the articles I've authored in 2015. I'm not surprised that it generated so many comments – after all, we thought items like fatpacks were immutable to market pressure because Wizards could just print more of them… but we learned very quickly that wasn't the case.
Looking at it again, the article was meant to highlight that this was a highly unusual case for fatpacks because they usually just sit on the shelves at your local game store, gathering dust until someone wants another box for their collection and also decides that they should get a few packs at the same time. Unfortunately, until we get more of the same type of fatpacks in Oath of the Gatewatch we're still going to see $60+ prices on these guys. Even after more land packs are introduced, I'm not sure if the fatpacks from BFZ block will ever fall below retail due to the huge demand for full art lands.
My next most commented article, this piece highlighted the extreme divergence from a value-centered Modern Masters 2013 set to a… let's be generous and say limited centric experience for those opening Modern Masters 2015 boosters. Specifically, the rares of Modern Masters 2015 were a total trainwreck in terms of value. It had more than double the amount of bulk rares that Modern Masters 2013 included. Thus, many players were frustrated with the fact that pack prices increased while the value of opening single packs over boxes (basically, drafting the set) decreased.
Out takeaway here is that Modern Masters sets will keep giving us stuff like Tarmogoyf and Cryptic Command but otherwise will start focusing on limited more than the value of the rares included.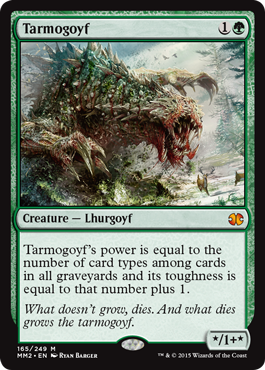 This blurb was a catch-all of the comments I had concerning prices after the release of Modern Masters 2015 and leading into the Grand Prix that followed the release weekend. I noted that cards like Primeval Titan didn't shift much in price after the release, while others were on their way up and up hard. As we all remember, Snapcaster Mage experienced a humungous spike because of the omission of Innistrad from the set. Other random cards, like foil Omniscience, also spiked at the time since they too managed a reprint dodge.
Of course, since then many of these cards have settled down from their post-release spikes but could yet again see another resurgence in price as the next Modern season approaches. Modern is quite an unpredictable beast, so it will be hard to tell which cards will spike the hardest but we'll definitely be seeing higher prices on many Modern staples as the season approaches more closely.
This article highlighted all the issues I researched concerning the release of Modern Masters 2015. I think this article, along with my one about the general value of rares you can expect to pull out of a pack, are quite telling in terms of the quality control of the set.
You can check out the article for specifics, but there were a ton of issues with the green packs that Wizards created for this Modern Masters release. Collation issues, in pack damage (something also seen with foil Expeditions *sigh*), and other mishaps like order allocation scares were enough to get people like myself to notice and comment. Hopefully this year we'll experience less issues with premium set releases, though based on Expedition damage issues I'm not sure if the quality control measures have been fully implemented at this point.
Here I commented on which cards from Theros block were the best targets to hold moving forward. I still maintain that Thoughtseize is the strongest target since it is the best discard spell in the Modern format at rare. Foils are still a great pickup, since they haven't moved in price since I commented and I believe that they have nowhere to go but up until the next reprinting.
Check out the article for more thoughts on where I think certain Theros staples are heading in the future.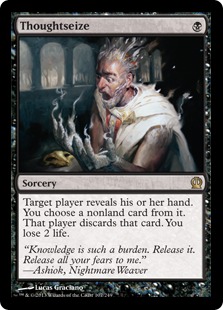 My most exciting clash pack review to date, this review generated buzz since it contained Windswept Heath! Now that we know that precon products like clash packs will contain in-demand Standard staples, as well as event decks containing mythic rares, I think it is a wake up call to us all that Standard staples are not great speculation targets anymore – not unless you pick them up in preorders before the set is released, and it is always a difficult thing to predict the metagame.
We all have our stories of failed speculation targets, and mine are also included among those. What this clash pack has taught me is that I need to be even more careful when picking up Standard cards for future gains, and I think instead I will need to think about their appeal in Modern and beyond (as well as foil pros and cons) before acquiring any Standard legal cards moving forward.
Though I looked at Fate Reforged as a whole in this article, I've more highlighted the fact that Ugin, the Spirit Dragon is an unusually popular casual card – so much so that it continued to demand a $30 and higher retail tag even after the set had saturated the market. I'm not one to say I told you so but… Ugin is now a $50, and won't go down until Fate Reforged rotates from Standard.
Foil Ugins, on the other hand, have dropped in price considerably since I wrote that article. Since Standard players rarely have need of foils, the initial Commander got-to-have-it-now hype has died down and you will be able to get a great deal on a foil Ugin over the coming months as Fate Reforged rotates from Standard.
The other incredible mythic rare from Fate Reforged, Monastery Mentor, also deserved his own article from your's truly since I believe that he has great eternal appeal based on early results from tournaments after Fate Reforged was released.
A nice win for me, my own copies that I procured back in April after I wrote the article have appreciated well. According to the price history, that was the low point for foil mentors and they've gone past $70 each retail since then. I hope you all were also able to pick up foil Mentors throughout the early stages of last year before they crossed $50 or even $60.
Here, I spent a great deal of time considering Jace, Vryn's Prodigy and why his price history was mirroring that of most broken planeswalker of all time, Jace, the Mind Sculptor.
Even now, I fear that I underestimate the power of little Jace in eternal formats. He seems to keep exceeding all of my expectations for what a Standard legal card can become value-wise. Now, I'm thinking that his price will never go below $30 since the demand he sees in Modern (along with a short print run of Origins) will forever keep him in the low $30 range until the inevitable reprint happens.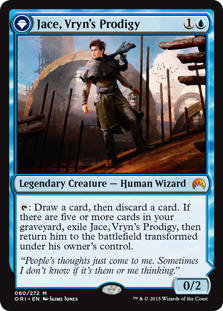 Finally, the last article I want to talk about it has a more personal touch to it than many articles I release for MTGPrice. The article poses the question "Is it worth it to trade anymore?" based on several premises such as the time to trade, more cutthroat approach to trading, and condition-based trading that seems to be happening these days.
The piece probably strikes most of you as something that an old curmudgeon harpening back on the glory days of Magic trading would spew, and there certainly is quite a bit of complaining to back that up. Maybe I've been neglecting to fully utilize and learn the new tools of the trade that have been given to the player community. After looking at this article again I want to make it one of Magic related news years resolutions to finally not be frustrated with the way trading happens for me these days, and instead to embrace technology for the additional opportunities it grants me rather than the slow-down it seems to have become. Puca banning users from selling points hurts trading on that exchange somewhat, but even then I still think it is a great way to pick up Commander and Cube staples that I have a hard time finding locally.