ADVERTISEMENT:
Time to stock up on Huntmaster of the Fells!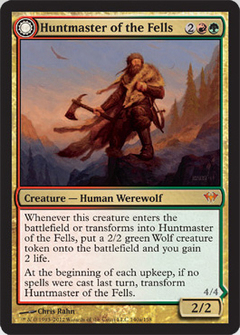 Kelly Reid and the folks at QuietSpeculation.com just posted a fresh take on Ramp      from ChannelFireball. Primeval Titan already made our "top 5 biggest changes" list today and this deck contains four of them.
If this deck does well, expect titans, and huntmasters to continue to go up in price (check out the volume graphs on Huntmaster – note that ChannelFireball had ZERO in stock at the time of the last scan).
ADVERTISEMENT:
MTGPrice helps keep you at the top of your game with our daily card price index, fast movers lists, weekly articles by the best MTGFinance minds in the business, the MTGFastFinance podcast co-hosted by James Chillcott & Travis Allen, as well as the Pro Trader Discord channels, where all the action goes down. Find out more.
ADVERTISEMENT: